[{"name":"Arts & History","id":1},{"name":"Nature & Adventure ","id":2},{"name":"Outdoor Activities ","id":3},{"name":"Food & Wine","id":4},{"name":"Nightlife & Entertainment ","id":5},{"name":"Explore Neighborhood","id":6},{"name":"Gigs, Parties and Events","id":8},{"name":"Classes, Workshops and Courses","id":9},{"name":"Offer Rides","id":10},{"name":"Vacation House Sitting","id":11},{"name":"Interepretation & business help","id":12},{"name":"Others","id":7}]
Bangkok
Entertainment Zone of Thailand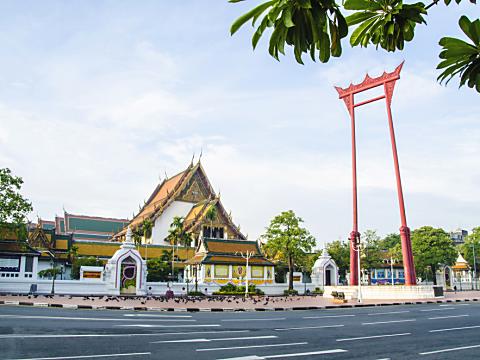 If Bangkok had a tagline, it would have been Come and Have Fun. And nothing would have been closer to the truth. Bangkok, the capital city of Thailand, is a class apart when it comes to providing entertainment and oodles of fun. Contrary to popular belief, Bangkok need not only be a fun holiday destination for the young but also has all the ingredients to be a family holiday destination. In other words, it has something for everybody, irrespective of age, nationality and definition of 'fun'. However, the fact remains that 'Nightlife' is almost synonymous with the name 'Bangkok'.
It is truly a city that never sleeps. Nightclubs, bars, pubs, discos and music concerts make sure of that. They form the pulse of the city and provide all night long entertainment for those who pride themselves on being party animals. The second synonym for Bangkok would be, no prizes for guessing, shopping. The city is, in every sense of the word, a shopper's paradise. Whether you prefer sashaying around glittering, unashamedly expensive malls or hunting for amazing deals in local flea markets, Bangkok is for you. Whether you swear by brands or make your own fashion statement by sporting whatever catches your fancy, you are in the right place. Electronics, garments, pottery, handicrafts, home decor items - you would run out of breath but Bangkok would never run out of things to offer.
If you actually drop while shopping, the renowned Thai Foot Massages and Body Massages would guide you back to your feet. However, there is another side to this bustling city that is often overlooked, worse, ignored. Siam Ocean World is an unbelievable peek into exotic marine life, a tour of which would allow you to get up, close and personal with amazing marine species. On the other hand, Safari World is a spectacular home to wild animals and birds from all over the world. This wonderful diversity of offerings makes Bangkok a much popular holiday destination.
Find Bangkok Local Guide Now!
Are you a Local in Bangkok? Post an Ad (FREE)!