[{"name":"Arts & History","id":1},{"name":"Nature & Adventure ","id":2},{"name":"Outdoor Activities ","id":3},{"name":"Food & Wine","id":4},{"name":"Nightlife & Entertainment ","id":5},{"name":"Explore Neighborhood","id":6},{"name":"Gigs, Parties and Events","id":8},{"name":"Classes, Workshops and Courses","id":9},{"name":"Offer Rides","id":10},{"name":"Vacation House Sitting","id":11},{"name":"Interepretation & business help","id":12},{"name":"Others","id":7}]
Barcelona
Barcelona, the city of art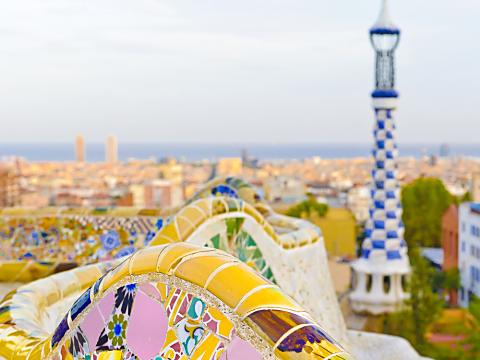 If you are looking for a trip to remember for the rest of your life then you should consider visiting Barcelona.
The famous architect Antoni Gaudi succeeded in making Barcelona a masterpiece of magnificent architecture. In every street of Barcelona you will find historic buildings that grasp your attention from the outside and will impress you even more from the inside such as "Casa Batllo". The enormous "Sagrada Familia" is worth visiting as it's Barcelona's famous Basilica which started to grow in 1882 and is still under construction.
Don't forget to visit "Barcelona's Stadium" where Ronaldinho & Messi played their great matches. Take lots of pictures inside "Picasso's museum" or beside the "Face of Barcelona statue" or with talented performers in "La Ramblas".
If you are staying in the city centre, you can always take the metro and go to the sea. Enjoy a sunny day on the beach then pick your favorable beach restaurant and have lunch. Just a short walk from the beach you can find the "Aquarium" where colorful small and big fish swim beside you.
Barcelona is also famous for its well-known seafood dish, the "Tapas" which is a must eat for any visitor! As for shopping, you can never miss "El Corte Ingles" nor famous brand names such as Zara or Mango along "Passeige de Gracia".
There is always something to do in Barcelona even if you are limited with a budget. For only 20 euros you can ride the "Bus Turistic" & explore Barcelona. Pick your chair on the deck for a better top view of the City. The bus will take you around to all the famous attractions and you could always get off the bus to visit any sight then get back.
If you visit Barcelona once, you will want to visit it again and again. It is not just about the famous attractions or sight seeing. It's about the sunny weather, the cozy atmosphere and the friendly citizens of Barcelona. You will definitely enjoy your stay even if you spend your day just wandering around the streets of Barcelona.
Find Barcelona Local Guide Now!
Are you a Local in Barcelona? Post an Ad (FREE)!