[{"name":"Arts & History","id":1},{"name":"Nature & Adventure ","id":2},{"name":"Outdoor Activities ","id":3},{"name":"Food & Wine","id":4},{"name":"Nightlife & Entertainment ","id":5},{"name":"Explore Neighborhood","id":6},{"name":"Gigs, Parties and Events","id":8},{"name":"Classes, Workshops and Courses","id":9},{"name":"Offer Rides","id":10},{"name":"Vacation House Sitting","id":11},{"name":"Interepretation & business help","id":12},{"name":"Others","id":7}]
Moscow
Moscow - Russia's beating heart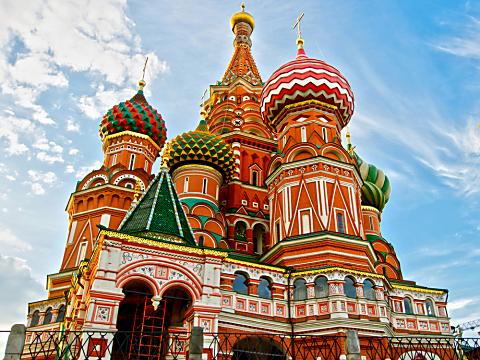 Welcome to Moscow - Russia's beating heart, a city that has preserved its rich history and intertwined it with its modern present. The city is overwhelming in its variety of interesting attractions and diverse experiences - Moscow offers something for everyone.
It is worth a visit to Moscow just to admire the majestic fortified Kremlin complex and explore its perfection of lavish architectural genius, including its famous ruby star topped Spasskaya Tower, gilded nine-domed Cathedral of the Annunciation and picturesque Grand Kremlin Palace. But don't stop there - be sure to also witness the vivid colors of the elaborate masterpiece Saint Basil's Cathedral, built to resemble bonfire flames, both in the daytime and at night. Immerse yourself in the local atmosphere by strolling along the vast Red Square, where World War II soldiers marched in the past and famous musicians perform in front of huge crowds in the present. Tour the invaluable art collections gathered in galleries and museums all over Moscow ? State Hermitage, Tretyakov Gallery and the Pushkin Museum of Fine Arts are just a few of the world-class museums of art waiting to be explored. Another must-see is the Museum of Wooden Architecture in Kolomenskoye Park, where a tour guide reveals the treasures of wooden carvings dressed up in a costume from the era.
Moscow is one of the world's most remarkable cities in the sphere of arts and entertainment. A visit to Russia's capital isn't truly complete without taking in a ballet or theater performance in the Bolshoi or Maly Theater. For an unforgettable evening of classical music, enhanced by the grandeur of the setting, visit the Grand Hall of the Moscow Conservatory. Or, if you like being outdoors, spend a day in one of the many beautiful parks in Moscow ? relax in the Hermitage Gardens, get on the amusement rides in Gorky Park or shop for antique souvenirs and then relax at a cafe in Arbat Street. Be prepared for an incredible experience in Moscow -- and make sure it includes a generous helping of the tasty and hearty local cuisine.
Find Moscow Local Guide Now!
Are you a Local in Moscow? Post an Ad (FREE)!