[{"name":"Arts & History","id":1},{"name":"Nature & Adventure ","id":2},{"name":"Outdoor Activities ","id":3},{"name":"Food & Wine","id":4},{"name":"Nightlife & Entertainment ","id":5},{"name":"Explore Neighborhood","id":6},{"name":"Gigs, Parties and Events","id":8},{"name":"Classes, Workshops and Courses","id":9},{"name":"Offer Rides","id":10},{"name":"Vacation House Sitting","id":11},{"name":"Interepretation & business help","id":12},{"name":"Others","id":7}]
San Francisco
San Francisco - The Rainbow City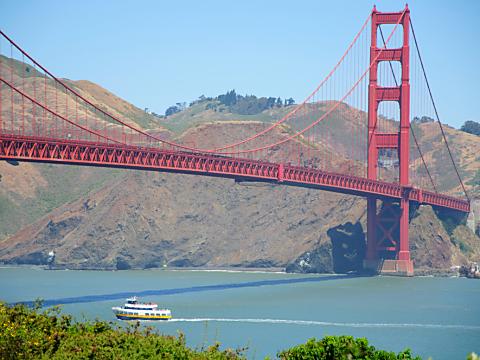 The local rainbow flag of LGBT pride originated in the immensely eclectic and welcoming city of San Francisco. No wonder the Californian hot spot is one of the most relaxing and genuine places to visit in the USA. There is room for everyone on the famously liberal West Coast- from excited tourists photographing the iconic Golden Gate Bridge to die-hard explorers sampling the delights of charming Chinatown.
A must-do for all adventurous drivers out there is the slalom-like road of Lombard Street on Russian Hill. If you want to take in some history then why not go back to the city's Spanish roots and take a cruise to Alcatraz Island, home of the abandoned Alcatraz prison. Or how about dining on rich San Francisco seafood cuisine washed down with the local pinot grigio? Try a tour of restaurants such as the Consuelo Mexican Bistro, the stylish Mission District or Cioppino's On the Wharf for the local catch of the day. Obviously San Fran is home to a generous helping of quirky gay nightclubs- but there are plenty of venues to get everyone's feet on the dance floor.Why not rock out at the Rockit Room, sip cocktails made from fresh local ingredients at Club Deluxe or discover new talent at 26 Mix? If you want to experience a thoroughly vivid tour of San Francisco then visit Fisherman's Wharf, Pier 39 and Ghirardelli Square. These are the three key areas full of sightseeing gold dust. If the famously steep hills of the city get a bit too much then hop on one of the readily available cable cars, buy an all-day ticket and ride from Market Street to Hyde Beach.
This guide will demonstrate why San Francisco is one of the most fun and whimsical destinations in the world to visit.
Find San Francisco Local Guide Now!
Are you a Local in San Francisco? Post an Ad (FREE)!